A workforce that can consistently execute strategy is an organization's most important asset.
Dick Beatty, Mark Huselid, and Brian Becker founded Beatty-Huselid-Becker Associates to apply leading-edge academic research and practical experience to the role of the workforce in strategy execution. With more than 100 years of experience in the design, implementation and measurement of HR and workforce strategies, our background includes award winning research, highly innovative and successful consulting engagements, and world-class executive education with more than 250 firms throughout the world.
View Dick Beatty's Harvard Business Interview on the Differentiated Workforce.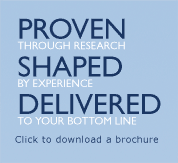 For more information on BHB, call: